Option 20: Positioning a C profile as a spacer
When the shape of the terrace requires the installation of a metal support to support the boards or for the battens, you can use internal joints (C17) to install a C profile as a spacer and therefore support the top structure.
This option is compatible with 100% metal structures and combined metal and wood structures (solution 12/13/14/15/16/17).
See the installation plan below.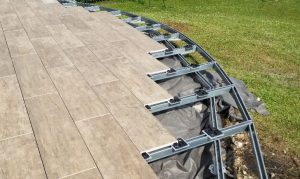 Do you have a project? Get a free estimate via our online form