Swimming pool on wooden terrace on Weasyfix foundation screws
Creation of a swimming pool on a wooden terrace without concrete thanks to Weasyfix foundation screws.
Would you like to build a swimming pool on your terrace without concrete foundations?
Weasyfix has the right solution for you!
No more need for time-consuming work as Weasyfix foundation screws enable a quick and easy installation without concrete.
So your garden stays intact!
This beautiful terrace around a swimming pool was built in just a few hours.
1

/1
The advantages of Weasyfix foundation screws for this concrete-less construction
The swimming pool installers were seduced by the many advantages that Weasyfix foundation screws have to offer.


Terraces on Weasyfix foundation screws are completely independent of the swimming pool.
They can be installed on different types of soil without overloading the work.
Thanks to the complete range of Weasyfix foundation piles, the structure can be installed easily on hard or stable soil, bedrock or soft, unstable and sandy soil.
For a construction without concrete, installing Weasyfix foundation screws does not require any drying time which makes the work possible in sub-zero temperatures.
Weasyfix solutions are far less expensive than existing systems as they make it possible to considerably reduce the construction period.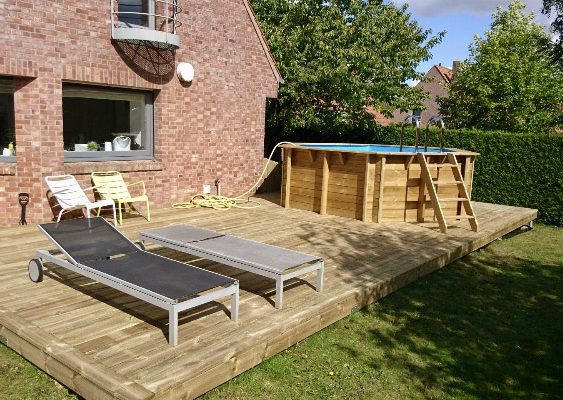 Discover our solutions
Weasyfix provides advice
Creations on foundation screws
See other creations
Discover beautiful constructions built on Weasyfix foundation screws without the use of any concrete

Do you have a project? Get a free estimate via our online form